"LOVE TO KEEP US WARM" CHRISTMAS PARTY AT SAIGON TECHNOLOGY
Jingle bell jingle bell jingle all the way to Saigon Technology 2022 "Love To Keep Us Warm" Christmas Party. We have here not only brilliant moments but also meaningful activities.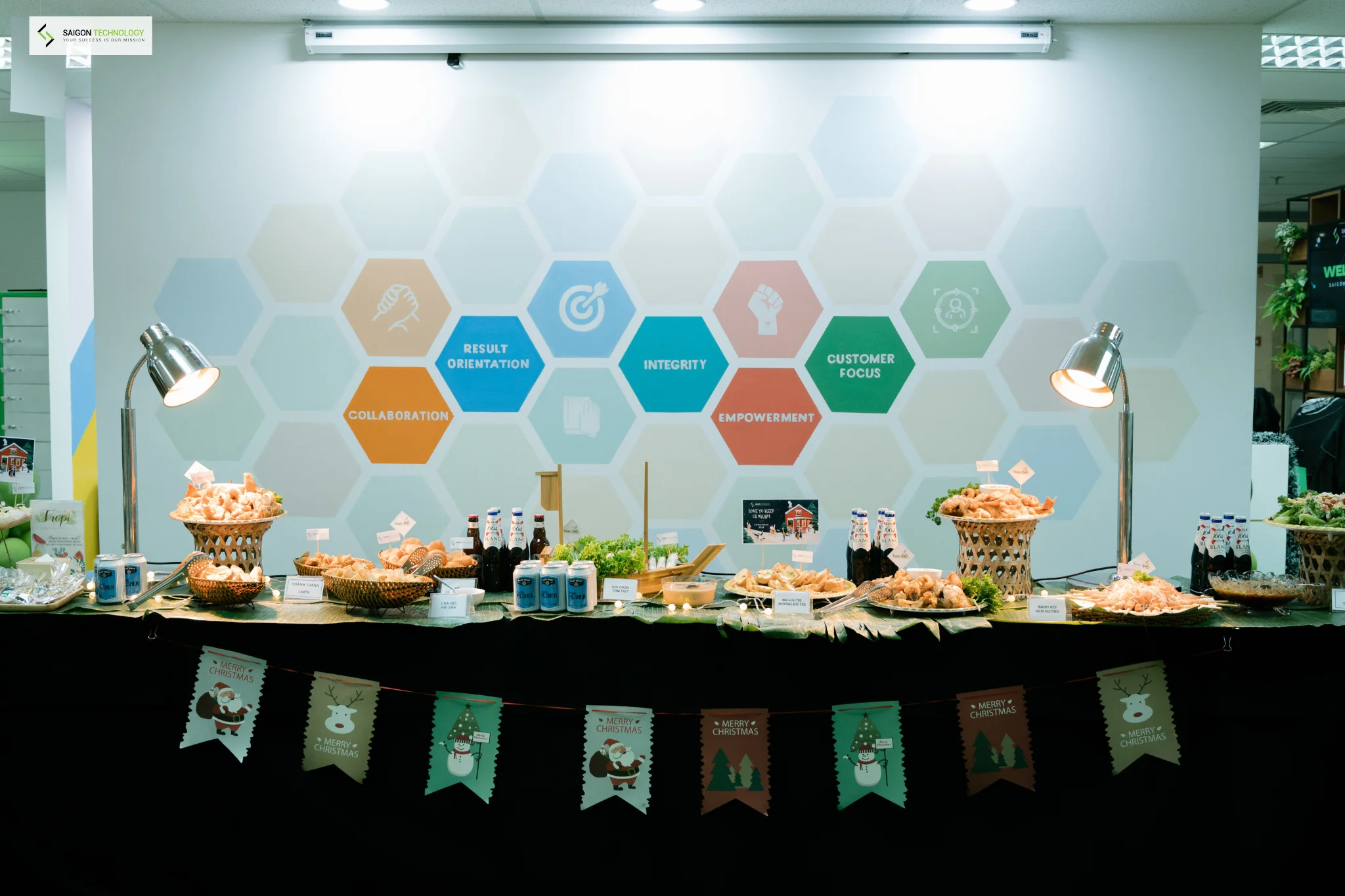 [Vietnamese Below] 
A CHRISTMAS FILLED WITH LOVE AND WARMTH 
Saigon Technology has previously hosted a brilliant Christmas party over 3 offices with the participation of joyous laughs and uplifting atmosphere from our Saigon Techies. The gathering has successfully infused this year Christmas to be plentiful of love and happiness! 
Most important of all is the rewarding feeling of having our Saigon Techies so enthusiastically participate in the 2 main activities of event "Love To Keep Us Warm": Donating clothes to ones in need and Secret Santa. Saigon Technology is beyond thrilled to share with you the achievement from these activities: 
134.8kg of clothes have been donated in returned for 1.17kg of pin as gift of encouragement from the charity "Gen Xanh" 

200 presents have been prepared for the Secret Santa (132 in HCM offices and 68 in Danang office) 
Below are some images that recap the heart-felt Christmas event at Saigon Technology that we want to share to spread the love & warm the hearts of our followers. Don't forget to drop a like and comment! 
---------------------------------
LAN TỎA SỰ YÊU THƯƠNG CHO MỘT GIÁNG SINH ẤM ÁP! 
Thứ 6 vừa qua, ngày 23/12/2022, buổi tiệc Giáng sinh vui vẻ đã diễn ra tại 3 văn phòng của Saigon Technology với nhiều trò chơi và món ăn ngon! Đặc biệt, với tinh thần "Chia sẻ yêu thương và sưởi ấm trái tim dịp Giáng sinh" của event "Love To Keep Us Warm" từ hoạt động Thu gom đồ dùng cũ và Secret Santa, Saigon Technology tự hào thu được 
134.8kg quần áo cũ và 1.17kg pin như phần quà nho nhỏ gửi đến những hoàn cảnh khó khăn. 

200 là tổng số món quà đã được tỉ mỉ chuẩn bị cho hoạt động Secret Santa năm nay (132 món từ 2 văn phòng của HCM và 68 từ văn phòng Đà Nẵng) 
Nếu bạn tò mò về tiệc Giáng Sinh nhà Saigon Technology như nào thì đừng bỏ lỡ những thước ảnh ở dưới nhé. Và hãy mạnh tay like, like, like nhé! 
#SaigonTechnology #TogetherWereStrong #SidebysideWethrive 
----------------------------------------------
Tìm hiểu thêm về chúng tôi tại: https://saigontechnology.com/