[Vietnamese Below] THROWBACK ON CHALLENGE YOUR HEART EVENT AT SAIGON TECHNOLOGY
To love and be loved - it requires a tremendous amount of non-stop effort and challenges, but for those who have fought for their love the result they receive is truly wonderful. Therefore, Saigon Technology has hosted a Valentine event named Challenge Your Heart in the spirit of it.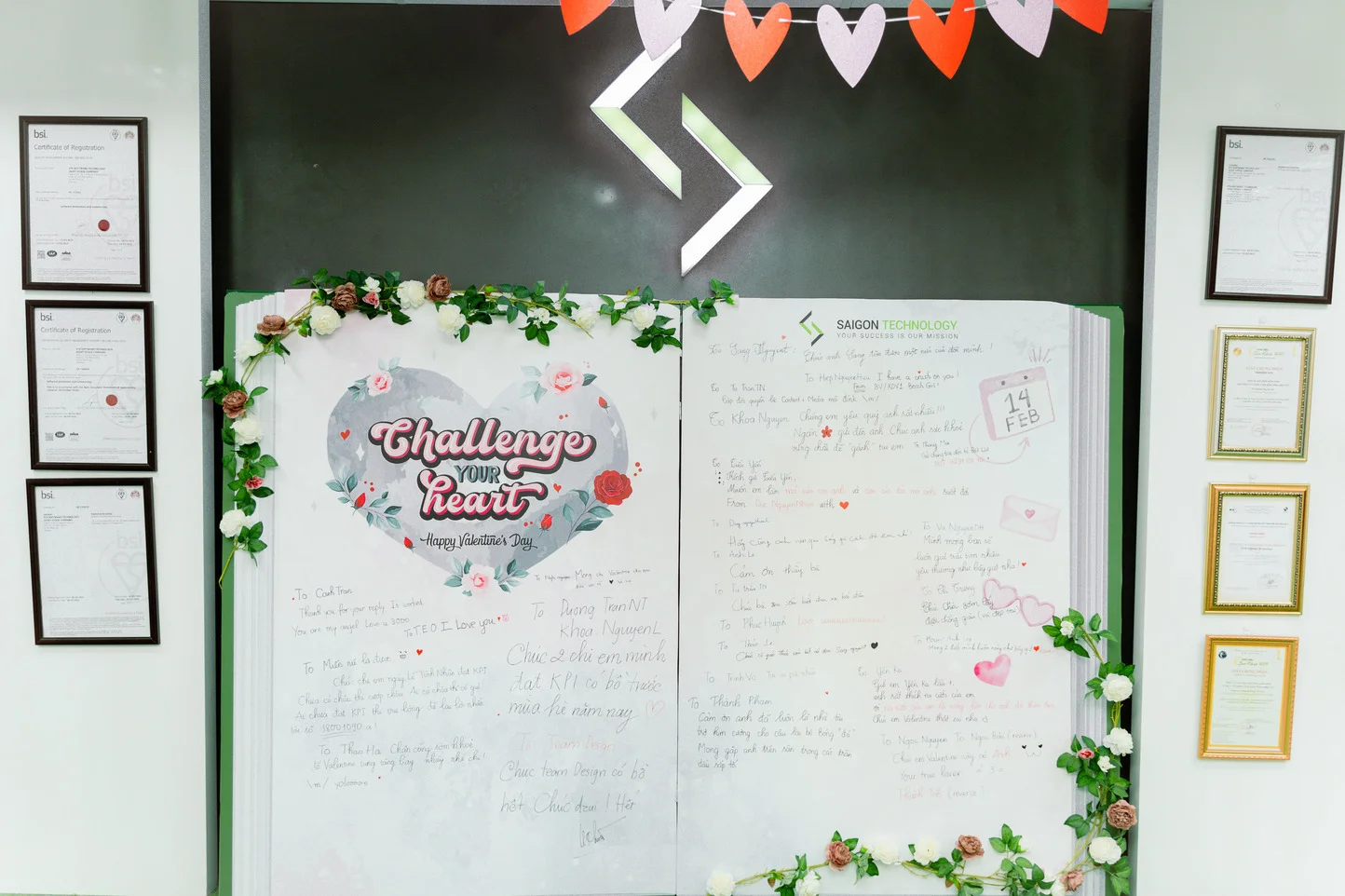 The event Challenge Your Heart has honor the key messages through the Couple game to test out the mutual understanding between couple/bestie. The prizes for those who have the highest level of harmonization are: Pizza 4Ps voucher (worth 500.000 VND), CGV voucher (worth 300.000 VND) and Starbucks voucher (worth 200.000 VND). 
Hope that our Saigon Techies did not just "activate" their inner bravery only through our Valentine event but also in their real life because love truly worth the risk and challenges. 
P/s: loads of beautiful pictures are below, watch and drop like to not feel "shock" >.<!!!!!!! 
VALENTINE NHÀ SAIGON TECHNOLOGY CÓ GÌ NHỈ 
Cái gì chúng tôi cũng có - từ voucher Pizza 4Ps, Starbucks, CGV, quà tặng từ "thần tình yêu Cupid", trò chơi cặp đôi dễ cưng đến người yêu của bạn!
Với thông điệp khuyến khích tất cả Saigon Techies mở lòng và yêu đi, tin rằng sau event Challenge Your Heart, mọi người sẽ tìm được chân ái của đời mình và đã có một ngày Lễ tình nhân nhiều hạnh phúc!
P/s: lưu ý cẩn thận vì có nhiều ảnh trai xinh gái đẹp trong bài post, hãy xem và like thật mạnh tay để không bị "hoảng sợ" bạn nhé! 
#SaigonTechnology #ConquerTheChallenges #Challenge Your Heart 
----------------------------------------------
Tìm hiểu thêm về chúng tôi tại: https://saigontechnology.com