Tự tin be you, be gorgerous
Ngày của chị em chúng mình đã đến rồi đây, bạn có tò mò xem Saigon Technology đã làm gì không? Hãy cùng đọc thêm nhé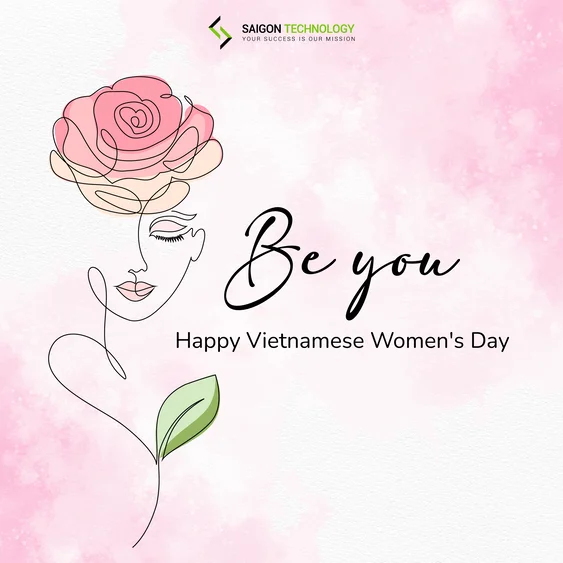 [Vietnamese Below]  
"BE YOU" WITH SAIGON TECHNOLOGY 
October has arrived and brought along a special occasion that allows Saigon Technology to have a chance to express love and appreciation towards our fellow female Saigon Techies - Vietnamese Women's Day, 20/10/2022. Saigon Technology wishes all of our female Saigon Techies and out there receives plenty of laughs and joys from the love of everyone not just on the day 20/10 but also on every single day. 
Below are a few images of what-fun-did-we-have at Saigon Technology on that day. Please look at how our Saigon Techies confidently and beautifully "Be You." 
----------------------------------------
Tự tin "be you" cùng Saigon Technology
Tháng 10 này có một ngày rất đặc biệt để chúng ta thêm trân trọng và yêu thương những người phụ nữ quan trọng trong cuộc đời mình - Ngày Phụ Nữ Việt Nam 20.10. Chúc cho các bạn nữa của Saigon Technology và trên toàn thể lãnh thổ Việt Nam luôn được yêu thương, nhận được nhiều nụ cười và niềm vui mỗi ngày. 
Dưới đây là vài thước ảnh của tiệc "trẩy hội" chị em ngày hôm ấy tại Saigon Technology. Mời mọi người nhìn các chị em phụ nữ Saigon Techies rạng rỡ "Be You" nhé!  
 
#SaigonTechnology #TogetherWereStrong #SidebysideWethrive #VietnameseWomensDay 
----------------------------------------------
Tìm hiểu thêm về chúng tôi tại: https://saigontechnology.com/
---
---