SAIGON TECHNOLOGY ĐƯỢC CHỨNG NHẬN LÀ NƠI LÀM VIỆC TỐT NHẤT
94% câu trả lời khảo sát từ nhân viên xác nhận Saigon Technology - Công ty Gia công Phần mềm hàng đầu tại Việt Nam, là Nơi Làm Việc Tốt Nhất - "Great Place To Work".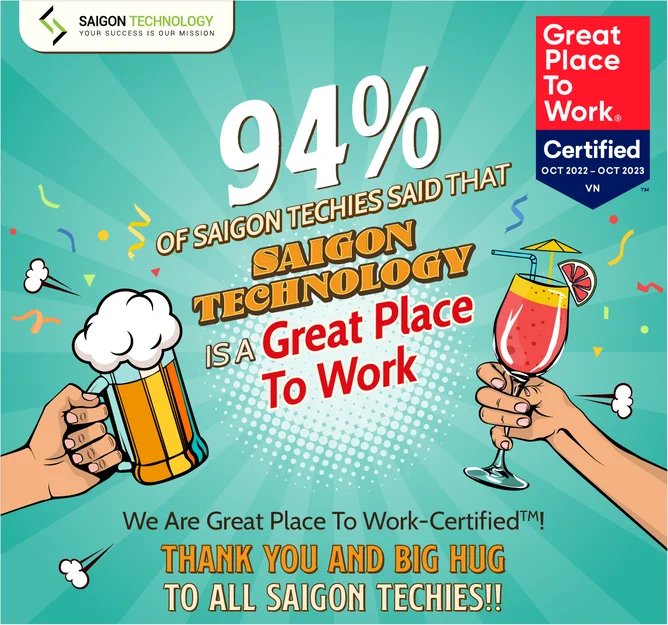 [Vietnamese Below] 
CELEBRATION ON ACHIEVING GREAT PLACE TO WORK CERTIFICATION 
With the absolute approval from 94% and over 250 positive responses, Saigon Technology has successfully secured a place in the list of the organization Great Place to Work® and get internationally certified in having a healthy working environment! 
This wonderful achievement calls for a celebration and of course we can't opt out for an internal congratulation get together - the Saigon Technology's way! The event was on the 28/10/2022 at our 3 offices: M.I.D, Aloha and Danang offices. The celebration is cozy yet meaningful with beverages of choice being: fruit juices, milk tea, coffee and also beer are served to spice up the occasion. In addition, to express our gratitude further,  a thank you present - a cup with Saigon Technology and Great Place To Work stamp on it, are gifted! 
Receiving the approval from our employees and the certification from Great Place to Work® - the only program provider authorized to certify corporate workplaces in more than 60 countries, is the perfect answer to our company's persistent effort in human resources strategy. What can better describe sustainability of a company than a strong overall mental health of our staff?  
Once again, we hope the internal events can deliver our thanks and gratitude to our Saigon Techies and we hope you've had plenty of fun! 
---------------------------------------- 
TIỆC CHÚC MỪNG ĐẠT CHỨNG NHẬN GREAT PLACE TO WORK®
Với 94% phản hồi tích cực từ Saigon Techies, Saigon Technology đã xuất sắc đạt chứng nhận và ghi danh lên danh sách các công ty có môi trường làm việc tuyệt vời  bởi Great Place to Work®! 
Nhà Saigon Technology cũng đã có một bữa tiệc nho nhỏ để Saigon Techies tự thưởng cho thành tích của chính mình tại 3 văn phòng: M.I.D, Aloha và Đà Nẵng vào ngày 28/10/2022 vừa qua với "menu" các món nước thơm ngon: nước trái cây ép đẹp da, trà sữa ngọt ngào, cà phê thơm ngon và chút sinh tố lúa mạch cho đời thêm đậm vị cùng Happy Hour rất Friyay! Ngoài ra, mỗi bạn Saigon Techies được "gói mang về" một phần quà cảm ơn nho nhỏ - chiếc ly sứ với logo công ty và tổ chức Great Place to Work®. 
Chứng nhận Nơi làm việc tốt từ Great Place to Work® - tổ chức cung cấp chương trình duy nhất có thể chứng nhận nơi làm việc của doanh nghiệp tại hơn 60 quốc gia thực sự là phần quà tuyệt vời cho sự cố gắng bền bỉ của Saigon Technology trong việc duy trì phát triển bền vững, tăng trưởng doanh thu, không ngừng cải thiện các chính sách nhân sự nhằm nâng cao đời sống vật chất và tinh thần cho nhân viên, đóng góp vào sự phát triển chung của cộng đồng và xã hội.
Một lần nữa, cảm ơn Saigon Techies rất nhiều. Ôm hôm tất cả mọi người!
#SaigonTechnology #TogetherWereStrong #SidebysideWethrive 
----------------------------------------------
Tìm hiểu thêm về chúng tôi tại: https://saigontechnology.com/