[English Below] 8/3 Ý NGHĨA VỚI THÔNG ĐIỆP "PHỤ NỮ HIỆN ĐẠI - KHÔNG NGẠI CHALLENGES" TẠI SAIGON TECHNOLOGY
Ngày Quốc tế Phụ nữ của chị em nhà Saigon Technology liệu có khác những công ty khác hay không? Cùng điểm lại một số khoảnh khắc của những "bông hoa xinh đẹp" Saigon Techies bạn nhé!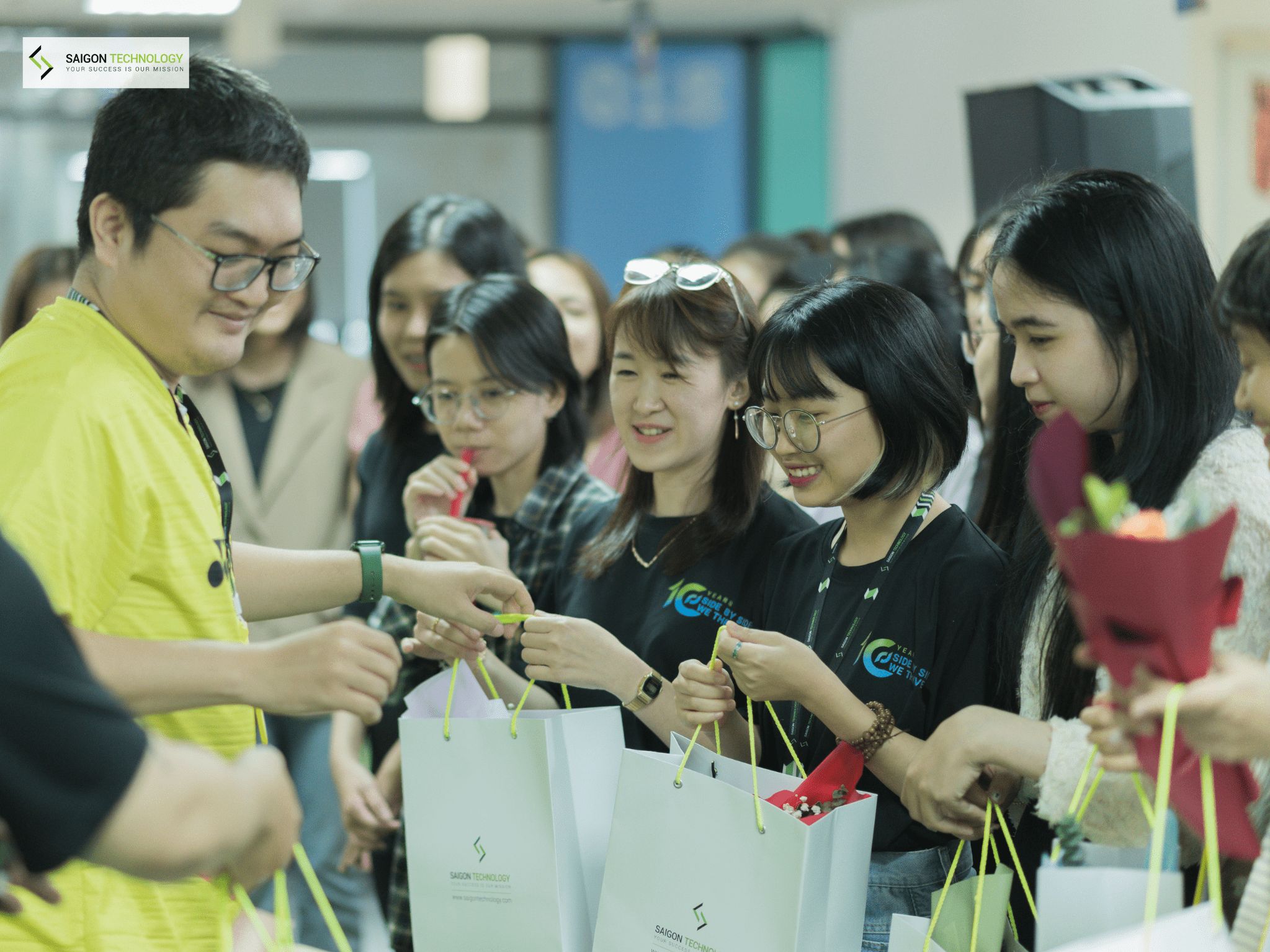 Mọi người có tò mò về ngày Quốc tế Phụ nữ 8/3 tại "nhà công nghệ" Saigon Technology sẽ như thế nào không?
Với mong muốn mang đến một góc nhìn khác biệt và không kém phần chân thật về chị em làm việc trong lĩnh vực công nghệ, dám thử sức, dám thể hiện, luôn đón nhận những "Tech" mới và không ngại "Take" challenges để ngày càng phát triển bản thân, đó cũng chính là chủ đề chính của chương trình đặc biệt được chuẩn bị cho các chị em phụ nữ Saigon Techies.
▪️ Trở thành Nữ Hoàng với "Be A Queen" Booth
▪️ Hội chị em được đi ăn trưa, "bonding" cùng nhau
▪️ Nhận quà tặng đáng yêu từ Saigon Technology
Cùng ngắm nhìn những khoảnh khắc rạng rỡ của các nàng trong sự kiện 8/3 vừa qua nhé!
WOMEN.TAKE.CHALLENGES AT SAIGON TECHNOLOGY
Are you curious about what the International Women's Day 8/3 at Saigon Technology?
With the desire to bring a different and honest perspective about women working in the technology field, dare to try, dare to manifest, and always welcome new "Tech" and not afraid to "Take" challenges that is also the key message of the special event prepared for Saigon Techies women.
▪️ Be A Queen in one day with lots of poses and joy
▪️ Have lunch and bonding together
▪️ Receive lovely gifts from Saigon Technology
Let's take a look at the girls' shining moments during the March 8 event
#SaigonTechnology #HappyInternationWomenDay #8thang3 #Quoctephunu #ConquerTheChallenges
----------------------------------------------
Tìm hiểu thêm về chúng tôi tại: https://saigontechnology.com/